Ultrahigh-Purity Springless Diaphragm Valves.
Product Announcement from Swagelok Company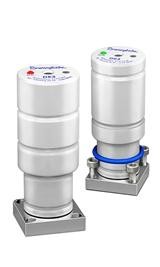 Featuring a formed aluminum housing for maximized efficiency, the Swagelok® DE series springless diaphragm valve delivers improved performance in the industry-standard 1.125 in. footprint. The valve is designed for modular gas systems and is the latest in the company's family of ultrahigh-purity springless diaphragm valves.
With the formed aluminum housing, Swagelok eliminated the threads that typically connect the actuator components and attach the actuator to the valve body. Elimination of threads permits larger diameter pistons in the same standard footprint for improved efficiency. The center cylinder of the actuator design provides an additional active piston to increase the force output of the actuator without increasing the diameter. The formed actuator also reduces the valve height
The innovative design includes a unique, smaller body that efficiently uses 316L VIM-VAR material for reduced cost and low internal volume. And a fully-contained seat design minimizes chemical and thermal swelling.
Learn more about the DE Series Springless Diaphragm Valves
---