Citizen Swiss CNC Screw Machining
Service Detail from Swissomation, Inc.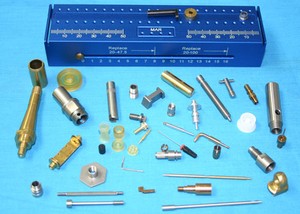 Swissomation, Inc features a wide range of high quality production capabilities to meet your CNC machining needs on time and at competitive prices. Our unique micromachining and finishing capabilities enable the manufacturing of your newest designs. We specialize in micromachining of an array of materials to very complex geometries with dimensional tolerances to +/-.0001". Our vertically integrated microprecision manufacturing processes make us your single source solution for the most challenging of projects. Dimensional inspection and complete process validation services per ISO 9000 standards ensure the highest level of quality for your products. R&D Prototype Departments are available along with extensive capacity of production equipment to support the manufacturing of your component or device from initial prototype through all steps of approval and full production requirements. Our experienced engineering staff develops the manufacturing processes to provide you with the most cost effective, quality products. Our proprietary manufacturing and finishing technologies enable our customers to bring products to market that might otherwise be considered cost prohibitive or unable to be manufactured using standard available manufacturing methods.
---