ISO 9000 Compliant Company
Service Detail from Swissomation, Inc.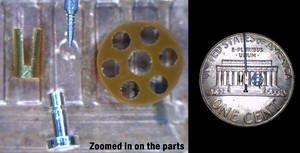 Quality Standards
At Swissomation, we work with each customer on an individual basis, to meet or exceed their quality requirements. Microprecision machining for all industries demands exceptional inspection, measurement and assembly capabilities. As an ISO 9000 compliant company, we make quality inspection an integral part of the production process. Our investment in quality is evident in our advanced inspection and measurement equipment. Customers know that our compliance to ISO 9000 reflects our own internal quality control inspection system. We pay strict attention to the details of our work - from planning, managing and administering the job to machining and finishing accuracy. Confidentiality is assured on all projects. All of our processes meet or exceed regulated quality standards; and, by meeting ISO standards for our quality management system, we show our commitment to customer satisfaction with flawless products and service.
---