Custom design and assembly of planars arrays
Product Announcement from Knowles Capacitors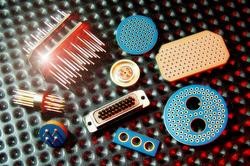 Connecting with specialist assembly services for planars
Custom design and assembly of planars arrays
World-class component manufacturer, Syfer Technology, is launching a custom design and specialist assembly services for planar arrays. Being the most complex device within the multilayer ceramic capacitor industry, Syfer believes there is huge potential demand for a more highly integrated component, incorporating the planar array, connector contacts, and ferrites.
Planar Arrays are complex EMI filtering devices, used in filtered connectors, containing combinations of capacitors, ground lines and feed-throughs. A single array can contain up to 155 capacitors, in up to four different capacitance values, with a choice of dielectric, planform and voltage rating. They are typically custom designed for a specific application, being widely used in civil and military aircraft, and space and satellite programs.
With 15 years experience in this field, Syfer is offering to help assemble the planars into connectors, providing the benefits of huge savings on investment into specialist processes and the necessary expertise, simpler manufacturing and assembly, and reduced procurement costs. Even conventional processes such as soldering require specialist expertise to avoid cracking the ceramic.
Assembly services available from Syfer include the assembly of clips into the holes in the planars, which may be soldered or pressed; soldering of contacts into the planars; and incorporating pi-filter assemblies with ferrite inductor. The planars can then be assembled into metal plates or rings, and/or encapsulated in epoxy. Importantly, Syfer offers 100% final testing to ensure all parts shipped are working as required. All assemblies are RoHS compliant.
Syfer uses only stable and ultra-stable C0G and X7R ceramic dielectrics. Planars are available in a range of capacitance values, from 47pF to 4nF (C0G) and 250pF to at least 600nF (X7R), depending on planar dimensions and specification. They can be supplied to suit a broad range of connector types; including the popular microD and subD types, as well as circular and ARINC type connectors. Syfer Technology invests heavily in advanced manufacturing techniques and has excellent soldering expertise and extensive assembly facilities. Its Lean manufacturing programme recently launched, for example, is set to reduce the lead times of planar arrays by a third. This initiative forms a part of the company's ongoing quality programme, which also includes Six Sigma, with the overall objective of reducing the 'costs of ownership' for its customers.
---