Extended Range of SM EMI Filters
Product Announcement from Knowles Capacitors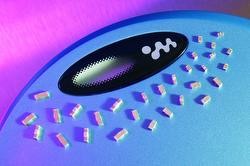 Syfer Technology's E07 range of high current 3 terminal filter chips has recently been extended. The filters which are designed to block electromagnetic interference (EMI) emanating from high speed circuitry and prevent the propagation of high frequency noise along power lines. The existing range has seen a huge increase in the maximum capacitance available, as well as in the number of values.

The devices are capable of carrying high currents, up to 2A, making them ideal for installing on the DC power lines on printed circuit boards. With the DC current fed directly through the E07 chip filters, PCB designers will find that a significantly improved high frequency filtering performance is the result.

Manufactured at Syfer's state of the art, Norwich, UK facility, the chip filters are available in three versions. The smallest, 0805 device features a capacitance range from 1nF to 47nF with a - 1A current rating. The 1206 version extends the capacitance to 100nF with a 2A current rating. Finally, the 1806 is available from 22nF to 200nF capacitance, also with 2A current ratings. Operating temperature range is -55 to 85oC, and working voltage is either 100Vdc or 50Vdc, depending on capacitance value.

Aimed at general signal filtering and high speed digital circuitry, the chip filters are particularly suitable for use in the automotive and communications industries.

All standard versions are fully RoHS compliant. Tin-lead plated devices are optionally available for use in high reliability applications, such as in the space/aerospace industry, where tin whiskers are considered to be a major risk issue.
---