Arc Deposition Targets
Product Announcement from Synertech PM Inc.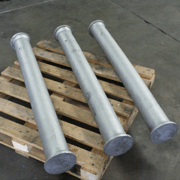 Synertech P/M manufactures targets for sputtering and cathodic arc deposition. The technology includes blending of elementary powders and associated powder compositions, cold pressing, high temperature out-gassing and HIP. The process parameters and HIP tool design provide 100% density for the various powder compositions, no segregation for the large size parts, near net shapes, HIP diffusion bonding to the backing plates and maintain the high cleanness of the material.
For more information, please contact us at www.synertechpm.com, kevin@synertechpm.com, or by phone at (714) 898-9151.
---