CUS30M and CUS60M series of AC-DC power supplies
Featured Product from TDK-Lambda Americas Inc.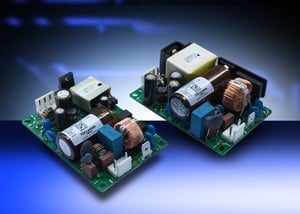 30W & 60W Medical / ITE 2x3" Class I & II Power Supplies Meet Curve B Radiated and Conducted Emissions
TDK Corporation announces the introduction of the CUS30M and CUS60M series of AC-DC power supplies, rated at 30W and 60W output power. Certified to medical and ITE standards for Class I and II operation, the products meet both curve B radiated and conducted emissions without the need for additional filtering or shielding. The CUS30M and 60M target applications include medical, home healthcare, test and measurement, broadcast, industrial controls and household appliances.
Initially available with 12V, 24V and 48V outputs, (5V, 15V, 18V and 36V models to follow), the industry standard 2" x 3" footprint power supplies can accept an 85 to 265Vac input and have operating efficiencies up to 90%. Off-load power consumption is <0.3W for the CUS30M and <0.5W for the CUS60M. The operating ambient temperature range is -20 to +70°C (-30°C start up), derating to 50% load at 70°C.
Input to output isolation is 4kVac (2 x MoPP), input to ground 2kVac (1 x MoPP) and output to ground 1.5kVac (1 x MoPP) making the series suitable for B and BF rated medical equipment. Touch current for the CUS30M is a maximum of 100µA and 60µA for the CUS60M, with leakage current less than 250µA and 200µA respectively at 265Vac 60Hz. 5,000m is the maximum operating, transportation and storage altitude.
All the power supplies are certified to IEC/EN/ES/CSA 60601-1 and IEC/EN/UL/CSA 60950-1 with CE marking for the Low Voltage, EMC and RoHS2 Directives. Models have also been evaluated for Class 2 limits in accordance with UL 1310 and the household and similar electrical appliances standard IEC 60335-1. The series is compliant to EN 55011-B and EN 55032-B (radiated and conducted) and meet the EN 61000-3-2 harmonics, IEC 60601-1-2 Edition 4 and IEC 61000-4 immunity standards.