TDK-Lambda DIN rail mount DDA DC-DC converters
Featured Product from TDK-Lambda Americas Inc.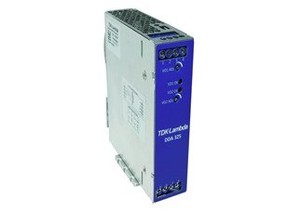 TDK Corporation (TSE 6762) announces the introduction of the TDK-Lambda brand DIN rail mount DDA DC-DC converters. The series uses step-down non-isolated power modules that operate from an input range of 9 up to 53Vdc, with a wide adjustable output voltage range of 3.3 up to 24V. The DDA is ideally suited for generating additional low cost, high current outputs from an existing 24V bus in industrial, semi fabrication and test and measurement equipment.
Three models are available in the DDA series. A single nominal output +12V 20A, a dual output +12V 20A / +5V 20A and a dual output +12V 14A / -12V 8A. Output power is typically 250W for each of the positive outputs and 75W for the negative output. Convection cooled, the overall output power is 250W, which can be increased to up to 500W with forced air cooling.
Positive remote sense, remote on/off and individual power good signals are fitted as standard. The DDA series is highly efficient, up to 95%, reducing internal waste heat for reliable operation. The models are 123.4mm high, 115mm deep and have a very narrow 36.5mm width, providing additional space on the DIN rail.
Safety certifications include IEC/EN/UL 62368-1 with CE marking for the Low Voltage, EMC and RoHS Directives. The units also comply with EN 55032-A conducted and radiated emissions and meet the EN 61000-4 conducted, radiated and magnetic field immunity standards.
More information can be obtained on the TDK Product Center, or by calling 800-LAMBDA-4.
Major Applications
Industrial, process control, semiconductor fabrication, and test and measurement
Main Features and Benefits
• Provides additional low cost, lower output system voltages
• Wide input range, 9 up to 53V
• Wide output adjustment from 3.3 up to 24V
• Narrow 36.5mm width
• Convection and forced air cooling ratings
Major Specifications