TDK-Lambda HQA series of isolated DC-DC converters
Featured Product from TDK-Lambda Americas Inc.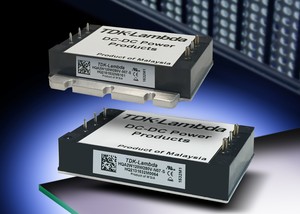 Harsh Environment and COTS DC-DC Converter Series Extended with 85W Models
TDK Corporation announces the introduction of additional models to the TDK-Lambda HQA series of isolated DC-DC converters. Rated at 85W, the HQA85 has been qualified with methods consistent with MIL-STD-883 and MIL-STD-202, making it suitable for use in COTS and harsh environment industrial equipment. Initially available with 12V, 24V and 28V outputs, the encapsulated quarter bricks accept a wide range DC input of 9V to 40V, withstanding a 50V surge for 10 seconds.
With typical efficiencies of up to 90%, internal heating is minimized allowing the HQA85 converters to operate in high ambient temperatures of up to 115oC and a minimum of -40oC. No opto-couplers are used in the design for enhanced reliability at high temperatures and the switching frequency is fixed at 270 kHz for simplified noise filtering.
The converter pinout follows the industry standard five pin quarter brick footprint featuring negative logic remote on/off and +/- remote sense. Two package styles are offered; a flanged type measuring 2.39" x 2.2" x 0.5" and a non-flanged version measuring 2.39" x 1.54" x 0.5".
Input-to-output and input to baseplate isolation is 2,250Vdc (basic insulation), and the converters are safety certified to UL/CSA/EN 60950-1, with the CE marking in accordance with the LV Directive and RoHS Directives.
More information can be obtained at the following TDK-Lambda Americas website, http://www.us.tdk-lambda.com/lp/products/hqa-series.htm, or by calling 800-LAMBDA-4. Product availability for the HQA series can be found via the link to TDK-Lambda's distributor network (see "Check Distributor Stock to Buy") at http://www.us.tdk-lambda.com/lp/.
Major applications
COTS (Commercial off the Shelf), vehicle, airborne, communications and harsh industrial.
Main features and benefits
Industry standard ¼ brick pinout

Efficiencies up to 90% at 24Vdc input

Operating ambient temperatures up to 115oC

No opto-couplers used