Why Wireless Heat Treating?
Service Detail from TEAM Industrial Services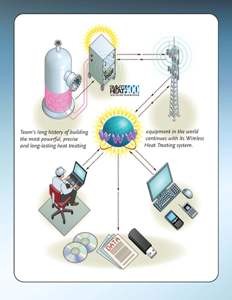 The same experts at Team who have been providing advances to the heat treating industry for over 50 years have created an innovative Wireless Heat Treating process that takes Wireless Heat Treating to a new level. Team's experts have successfully heat treated more vessels and pipe welds than any company in the world so it is no surprise that Team brings the same uncompromising, cost-effective standards of quality, safety, and innovation to Wireless Heat Treating. Utilizing the most advanced technology; trained Team technicians manage heat-treating flow and temperature requirements with pinpoint precision. From small, complex fittings to massive pressure vessels and turbines, Team provides the best possible solutions for all heat-treating applications.
Why Wireless?
· Reduce Cost
· Improve Quality
· Improve Record Keeping
· Reduce Space Requirements
· Improve Safety
Labor costs are reduced because one operator is able to control and monitor multiple heat cycles on one console as well as multiple consoles from a single remote location using any TEAM SCADA® Software equipped computer with internet access. Each Digital SmartHeat 400® Wireless Heat Treating Console includes a Programmable Logic Controller (PLC) with Team's unique Ladder Logic Programming and is equipped with Flash Card Memory to store Heat Cycle Data for easy retrieval should there be any Internet Service Interruption.
Improved quality is experienced because customers and Team managers have the ability to monitor real-time temperatures on their cell phones, PDA's and personal computers through the World Wide Web. Reduced errors result when temperature requirements are verified from the SmartHeat 400® by Team's operations support personnel before and during heat cycles.
Documentation and record keeping are improved through Digital Storage. Documentation from the SmartHeat 400®including temperature charts and project reports are submitted through email, flash memory, or compact disc. Customers looking for historical information can always count on Team because quality control documents are stored on Team servers and are available for retrieval.
Reducing site space requirements for Team customers is always a priority and Team's SmartHeat 400®is 40% smaller than a traditional machine and stackable resulting in less space required in tight plant locations.
Team's Wireless Heat Treating system continues our long-time commitment to safe and injury free worksites. Wireless Heat Treating from Team streamlines heat treating processes, reduces equipment and labor requirements, offers fewer cables and ultimately reduces risk. The smaller sized, portable Wireless equipment helps minimize setup and teardown injuries. The remote access control and monitoring helps to remove personnel from sensitive, congested and/or risky facility areas.

Wireless Logistics
Team's long history of building the most powerful, precise and long-lasting heat treating equipment in the world continues with its Wireless Heat Treating system. From the true 75kVA, 18-heater capable power transformer to the compact, rugged body and stainless steel structural frame, Team's Wireless machines are built to get the job done.
Programmable Logic Controllers (PLC) and SCADA (Supervisory Control Data Acquisition) Software provide the brains of Team's Wireless SmartHeat 400 system to ensure that piping and vessel systems are heat treated right the first time and every time. The system is driven by interchangeable computer laptops that store time and temperature information in encrypted form. Heat cycle information from up to four consoles is saved to a log file and flash drive continuously during the cycle and is controlled wirelessly from a single computer.
Team's Wireless system maintains a constant connection with the internet allowing customers and Team support personnel to view real-time data from laptops, personal computers, PDAs or cell phones. With the capability to view time and temperature data anywhere you have internet access gives you the peace of mind that comes from knowing that heat treatment cycles are being executed exactly as required.
Time and temperature data can be expressed with up to 12 thermocouples per chart or separated out and displayed as a single thermocouple per chart, which provides for better oversight and quality control on small bore piping or single circuit heat treatments. Customer information is entered prior to heat cycle startup and can be delivered in printed form as well as in digital format including email, CD or USB device.
Wireless Capability
The largest field heat-treating company in the world, Team combines professional, highly experienced heat-treating personnel, unequalled service and state-of-the-art equipment to deliver exactly the right solutions for your field heat-treating applications and budget.
More than 90 million watts of equipment – More equipment than any company in the world.
In-house engineering, no guesswork – The only full-time, in-house engineering staff in the industry.
Technician expertise – More than 3,000 man-years of heat-treating experience.
Quality and safety: the nuclear standard – NUPIC-approved supplier.
Quick response – 80 equipped offices in North America. Ready 7 days a week, 365 days a year.
Full Range of Heat Treating Services - Welding Preheats, Refractor y Dry Outs, Post Weld Heat Treatments, Hydrogen Bake-Outs, Temporary Furnaces, Line Thawing, Coating Cures, Expansions, Space Heating, Process Start-ups/Heat-ups, Turbine Warming Systems, Induction Heating, Decontamination of Large Storage Vessels, Mobile Self-Contained Rigs, High-Velocity Combustion, Equipment Sales/Rentals, and Equipment Calibration and Service.
---