Wireless, computer-controlled heat-treating system
Service Detail from TEAM Industrial Services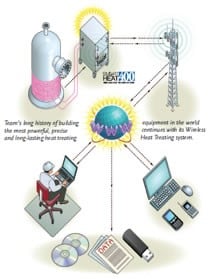 For large jobs, Team capitalizes on advanced automation to provide both control and safety. We don't promote wireless systems indiscriminately because there are important safety considerations that sometimes warrant having a technician monitor control points at the site. But for many projects, wireless technology can offer personnel savings by controlling up to 36 points using Team's SCADA software.
Team's wireless, computer-controlled, portable heat-treating system reduces labor costs and increases accuracy, precision and record control. This state-of the-art system allows operators to program heat cycles and variables into multiple heaters simultaneously utilizing a complex controller with multiple inputs for thermocouples and heater current. Multiple units can be linked together with either wired communications cord or a wireless transmitter to a central control point.
Wireless heat treating delivers clear, concise documentation for customers while guaranteeing chart accuracy. It also allows the chart to remain (1) on a hard drive and (2) backed up on a storage device. Documentation saved electronically and stored locally is available for fast retrieval for auditing purposes and/or duplication.
---