Data Connectivity Systems
Featured Product from TE Connectivity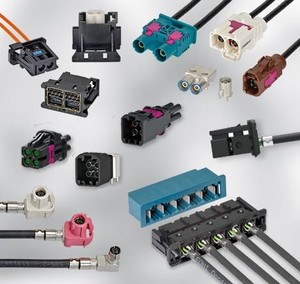 Data Connectivity Systems
The connected vehicle is powered by the demand for motor vehicle convenience and safety. This demand is driven by the need for connections with consumer devices and information to provide a safer environment for the driver and pedestrians. Both share the need for large amounts of data to be transferred and processed at a high speed in the vehicle. TE is able to provide solutions for safe and reliable systems and processes for high-speed data based on long standing experience in the production of reliable connectivity, antenna and sensor systems. Our technologies are focused on consumer port applications, board-to-board connections, vehicle-to-vehicle communication, and next-generation harness architecture.
Typical Applications
Data Connectivity Systems
Based on an Ethernet data network:
LiDAR
Satellite Camera
Driver Assistant Cluster
Front Camera
Sealed Inline Connection
RADAR
Control Panels
Infotainment Cluster
Consumer Ports
Inline Connection
Interior Lighting
Rear Seat Entertainment
Automotive Ethernet
What's Next in Data Connectivity?
Next Generation Design: Advanced Infotainment Systems
For advanced high-data volume infotainment systems and next generation data architectures requiring automotive grade robustness and reliability, TE will offer extended performance versions of its current MATEnet (for Ethernet) and MATE-AX (COAX) products. These will support data speeds up to 12Gbps.
Next Generation Design: Advanced Driver Assistance Systems (ADAS)
TE is in advanced stages of development for the next generation of highly robust data connectors for safety-critical, ultra-high data volume applications such as LiDAR and RADAR that will generate very large amounts of uncompressed data. TE will offer data connectivity solutions transmitting up to 24Gbps and supporting levels 3 and 4 autonomous driving use cases.