LUMAWISE LED Holders
Featured Product from TE Connectivity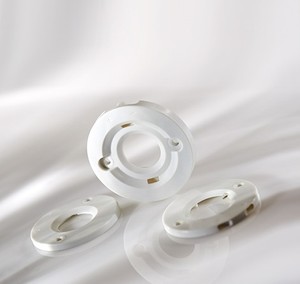 Solderless termination of Chip-on-Board (CoB) LEDs
TE's LUMAWISE LED holders mechanically secure and electrically connect CoB LEDs to a luminaire without the need to solder allowing the LED to be directly attached to a PCB or heat sink using a few standard screws.
Product FeaturesLUMAWISE LED holders
Solderless electrical connection to LED
Integrated poke-in wire termination
Snap-in LED retention on some versions
Alignment features simplify installation
Easy attachment of secondary optics
High-reflectivity polymeric housing materials
Wide operating temperatures
Type Z LED Holders
Our LUMAWISE Type Z LED holders provide a quick and easy solderless connection to COB-LED arrays and are designed to enable customers to develop Zhaga compliant modules. Standard and low profile Type Z50 LED holders feature snap-in LED retention that secures the LED in the holder during assembly and ensures proper positioning in the fixture. Offered with or without optics attachment features, the Type Z LED holders are available in a configuration to suit your needs. The optics attachment version functions with LEDIL optics to provide the lighting designer with beam shaping flexibility in spot and downlight applications.
Scalable LED Holders
Our LUMAWISE Scalable LED holders enable connectivity to a wide range of LED arrays and are available in pre-assembled one piece & two piece configurations for ultimate design flexibility. The two piece design utilizes the same part for both positions and it's scalability makes it broadly applicable to multiple commercially available LED arrays. Designed with the future in mind, the Scalable LED holder platform is readily adaptable to tomorrow's LED arrays. The inherent flexibility of the platform allows accommodation of a virtually infinite range of LED package sizes and plating materials
Spot Lights
Track Lights
Recessed Downlights
High Bay Lights
Retrofit Lamps
Wall Sconces
We are a participating member of the Zhaga Consortium, an industry-wide cooperation enabling the interchangeability of LED light sources and simplifying LED applications for general lighting. TE partners with the leading LED and optics manufacturers in the industry to bring you connectivity solutions for your specific choice of LED array.