Advanced Temperature Calibrators
Featured Product from TEGAM, Inc.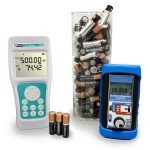 945A Handheld Thermocouple Calibrators
New challenges require new tools. TEGAM has rethought thermocouple calibration to offer you the performance you need today without complicating your work. The new 940 Series handheld thermocouple calibrators provide laboratory-grade temperature calibrations in a highly portable package that goes to the work site with ease. Industries that measure temperature are being pushed to achieve better results for both quality and product safety. TEGAM has responded by designing a thermocouple calibrator that leads its class in terms of accuracy, battery life, convenience and ease of use.
TEGAM Temperature Calibrators for Your Industry
Perform on-site calibration and verification of thermocouples, temperature transmitters, indicators, process controllers and displays with lab-grade accuracy in the varied conditions found on the plant floor.
Aerospace: verify engine temperature sensing and displays, heating/ventilation, climate control, heat treating AMS2750 oven controls and surveys, composite repair temperature controllers and fire detection systems.
Food Industry: Ovens, freezers, warehousing and refrigeration are verified for correct storage temperature and final cooking temperatures. Validate sensors, controllers and displays with accuracy and ease.
Automotive: verify engine coolant and oil temperature sensing, calibrate ECU inputs, climate control, battery temperature monitoring systems and heat-treating ovens.
Plastics: validate heaters and controllers, liquid cooling loops and process automation temperature inputs
Chemical Plants: verify thermocouples and calibrate temperature transmitters, validate process controller inputs.
Stringent calibration requirements demand precise measurements. That is why, When the Measurement Matters, Be Certain with TEGAM.
Simple, Durable, Laboratory Grade & Portable Thermocouple Calibrators
Visit the TEGAM Forums for helpful information on digital thermometers, thermocouple calibrators and temperature calibration.
See the full line of TEGAM Thermometry Products HERE
Feel free to contact TEGAM with any questions you may have on the 945A thermocouple calibrator.
Technical Specifications
Source Accuracy: ±0.003% +5 µV
Resolution: 0.01 ?
10X Battery Life
Simultaneous Source/Measure
MIL-STD Durability
ISO 17025 is Included
CE, Complies with 47 CFR Part 15 of the FCC rules, Class B
Easy One Hand Operation
TEGAM
From Food Safety to High Power Calibration, TEGAM aims to meet your measurement needs. We keep your needs and applications in mind throughout the design, manufacture and support of all our instruments. The quality is built in when you choose TEGAM for all your measurement needs. Our products are marketed throughout the world via TEGAM's cohesive network of strong technical representatives and distributors in over 40 countries.