Auto-Ranging LCR Meter For Component Inspection
Featured Product from TEGAM, Inc.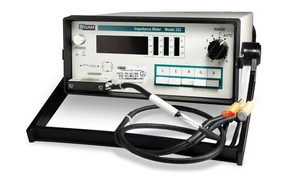 This meter provides direct, digital display of inductance, capacitance, resistance, conductance and dissipation. It has the versatility and basic measurement accuracy of 0.25%, to satisfy demanding engineering and inspection applications, while being extremely easy to use. Simply push the button for the desired function, set the range and connect to the unknown. True four-terminal connections are ensured by the standard Kelvin Klip® test leads. The measurement is displayed on the large 3-1/2 digit readout. Additionally, the Model 253 has an auto-ranging feature for testing components with a more dynamic parameter range and the maximum range of component values for capacitance and conductance was extended to 2,000 µF and 20 S.
Technical Specifications
Basic Accuracy: 0.25%
Measurement Speed: 250 ms
Test Frequency: 1 kHz
Automatic L, C, R, G and D measurements
Auto Ranging
Shielded Kelvin Connections
Rear Panel External Bias Terminals
Calibration Certificate Included
NSN: 6625-01-125-3775
1 year warranty
Made in USA