Digital Microohm and Bond Meter
Featured Product from TEGAM, Inc.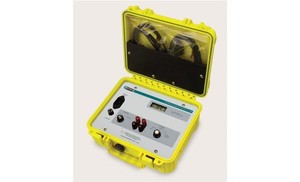 There are two models of the R1L-B series: the BR model is more suitable for portable "rugged" applications while the B model is suitable mainly for "in plant" environments. Both instruments utilize the four-terminal Kelvin technique to eliminate errors caused by the resistance of the connecting cables. Resistance readings are viewed on a 3½ digit display, reading from 1.999 to 199.9. Front panel controls are simply a POWER ON-OFF switch and a rotary 5 range selector switch. Measurement connections are made via four front panel low thermal banana jacks. Both instruments are battery operated and recharged from line power.
Features:
Rugged: MIL PRF2880F Class 3 (R1L-BR)
Low Cost: (R1L-B)
Portable: Long Rechargeable Battery Life
Ranges: 2 mΩ to 20 Ω

Accuracy: 0.25% of reading
Resolution: 1μΩ
Simple Operation
Offset Compensation