Dual-channel, datalogging digital thermometer
Featured Product from TEGAM, Inc.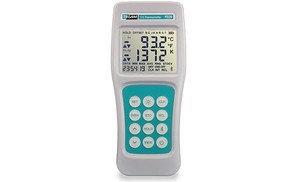 932B Datalogging Thermometer
Bluetooth® Wireless: Factory Tough, Lab Accurate
Datalogging Thermometer for Food and Pharmaceutical Applications
Bluetooth® low-energy wireless technology
MIL SPEC Shock, Drop & Vibration Rated
Washable
1000 Hour Battery Life
Accurate: ±(0.04% rdg + 0.3 °C)
2 Year Calibration Guarantee and 3 Year Warranty
Optional ISO 17025 Calibration Certificate Available
Optional Developers' Kit SDK available here
Probe Sold Separately: See Probes Here
Dual Input Datalogging Thermometer
Type K, J, T, E, B, N, R & S Sensor Probes
The Model 932B is a dual-channel, datalogging digital thermometer compatible with type K, J, T, E, B, N, R & S thermocouple probes to enable a wide range of temperature measurements, (-418 °F to 3308 °F) and boasts a 1000 hour battery life using three AA batteries. The 932B provides dependable and uninterrupted portable measurement capability without expensive batteries, AC adapters or chargers.
The easiest data logging function available allows users to accurately record and store up to 1000 time-stamped measurements. An unlimited number of data points may be collected when used with a Bluetooth® version 4.0 compatible wireless phone, tablet or PC either locally or on the freely accessible cloud server running TEGAM Thermometer Link for Android or for Apple iOS. This seamless connectivity allows the user to collect, transmit and store accurate temperature data for analysis or compliance reporting without any additional or third party software.
The creative ergonomic design makes these datalogging instruments easy to hold, easy to read and easy to clean. Designed for one-handed operation, these tools are comfortable to carry and use for extended periods of time. The heavy-duty case is specifically designed for durability and resistance to contaminants such as dust and chemicals. The smooth, sleek, seamless case means that cleaning is quick and certain.
Real-time statistical data increases user productivity, process efficiency and product quality. Displayed on-demand, MIN, MAX, AVG, RNG and STDEV (standard deviation) provide critical process information and diagnostics that allow the user to analyze manufacturing processes on the fly and make immediate adjustments for maximum efficiency and quality. The difference between channel 1 and channel 2 is also determined and displayed.
Like all TEGAM products, our datalogging thermometers are designed, assembled and tested in the United States. TEGAM backs this durable instrument with a standard 3 year warranty and a 2 year calibration guarantee to insure that your instrument is ready to use when you need it.
TEGAM Temperature Calibrators for Your Industry
Perform on site calibration and verification of thermocouples, temperature transmitters, indicators, process controllers and displays with lab grade accuracy in the varied conditions found on the plant floor.
Aerospace: verify engine temperature sensing and displays, heating/ventilation, climate control, heat treating AMS2750 oven controls and surveys, composite repair temperature controllers and fire detection systems.
Food Industry: Ovens, freezers, warehousing and refrigeration are verified for correct storage temperature and final cooking temperatures. Validate sensors, controllers and displays with accuracy and ease.
Automotive: verify engine coolant and oil temperature sensing, calibrate ECU inputs, climate control, battery temperature monitoring systems and heat-treating ovens.
Plastics: validate heaters and controllers, liquid cooling loops and process automation temperature inputs
Chemical Plants: verify thermocouples and calibrate temperature transmitters, validate process controller inputs.
Stringent calibration requirements demand precise measurements, that is why, When the Measurement Matters, Be Certain with TEGAM.
Simple, Durable, Laboratory Grade & Portable
Visit the TEGAM Forums for helpful information on thermometry, thermocouple calibration
See the full line of TEGAM Thermometry Products HERE
Technical Specifications
Source Accuracy: ±0.003% +5 µV
Resolution: 0.01
10X Battery Life
Simultaneous Source/Measure
MIL-STD Durability
Z540 Calibration Report Included
Easy One Hand Operation
TEGAM
From Food Safety to High Power Calibration, TEGAM aims to meet your measurement needs. We keep your needs and applications in mind throughout the design, manufacture and support of all our instruments. The quality is built in when you choose TEGAM for all your measurement needs. Our products are marketed throughout the world via TEGAM's cohesive network of strong technical representatives and distributors in over 40 countries.