US Navy Again Contracts with TEGAM, Inc.
Featured Product from TEGAM, Inc.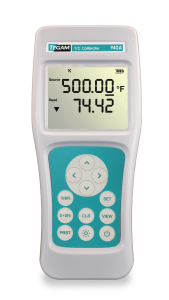 TEGAM's 940A Thermocouple Temperature Calibrator Meets Two Navy SCAT Applications for New Requirement Contract
***US Navy Again Contracts with TEGAM, Inc.***
TEGAM's 940A thermocouple temperature calibrator has recently been specified by the Navy to meet not one but two applications where Subcategory Code (SCAT) 4127 and 4128 are required.
Previously, the Navy had specified separate thermocouple temperature calibrators to satisfy applications where SCAT 4127 and SCAT 4128 are required. TEGAM's 940A temperature calibrator has now been specified to meet all applications for both SCATs. With its ability to utilize four different thermocouple types, Source Accuracy of ±0.003% +5 µV, and 10 times the battery life of competing models, the 940A meets all the requirements necessary. The dual-specification is a timely decision from the US Navy that will increase purchasing and operating efficiencies. The new National Stock Number assigned to the 940A is 6625-01-682-4192.
As Kevin Kaufman, Vice President of U.S. Government Sales, explains, "This is great news for TEGAM and we're delighted that the innovations we've built into our 940A thermocouple temperature calibrator can now be of more use and serve more purposes for Uncle Sam. Our engineers are honored."
TEGAM's reputation for quality and commitment to delivering world-class Test, Measurement & Calibration products are an integral part of the company's core values and what TEGAM's brand is built upon. This new contract award with the US Navy further solidifies a continuing pledge to provide instruments that meet the most stringent standards in the world. Mission critical measurements in demanding environments. The requirement for and award to the 940A temperature calibrator coincides with a new 5-year contract for TEGAM's 912B dual-channel thermocouple thermometer that was recently awarded.
TEGAM
From Food Safety to High Power Calibration, TEGAM aims to meet your measurement needs. We keep your needs and applications in mind throughout the design, manufacture and support of all our instruments. The quality is built in when you choose TEGAM for all your measurement needs. Our products are marketed throughout the world via TEGAM's cohesive network of strong technical representatives and distributors in over 40 countries