Medical Monitors and Displays
Featured Product from Teguar Corporation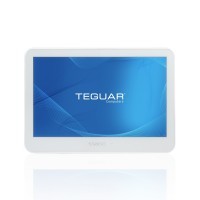 Teguar's medical monitors are available in screen sizes 15", 22" and 24". These medical displays can be connected to a medical box PC or a medical all-in-one computer to act as an extended or cloned display. Teguar's medical grade monitors are IEC 60601-1 4th edition medically certified, and have anti-bacterial and MRSA resistant bezels. Our displays are DICOM compatible and can be mounted onto a medical cart, desktop stand, or ergonomic arm for use at a nursing station, in the operating room or at the patient bedside.
Easy Integration and Variety of Video Inputs
The variety of display interface inputs gives the the flexibility to be compatible with various display inputs such as DVI, Display Port, and HDMI. A standard audio jack also allows users to take advantage of the built-in rear facing speakers. A USB input is required for interfacing with the touchscreen and I/O cover is included to keep your cable routing clean.
IP65 Front Side
The TMD series has an IP65 rated front bezel, so it can withstand sprays and splashes. You can clean this monitor frequently with harsh medical cleaners without worrying about damaging the touchscreen or internal components.
Anti-bacteria, Anti-MRSA Plastic Housing
IEC60601-1 4th Edition Medically Certified
HDMI, DisplayPort, DVI-D, Audio-in
Compatible with DICOM