New Waterproof Computers with Standard I/O Ports
Featured Product from Teguar Corporation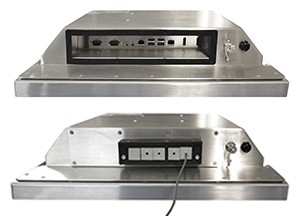 Teguar's TSC-5010 Series has an innovative cable gland design that allows standard cables to run from an accessory device into the Teguar unit, so that the connection is safe from the environment. The cable gland consists of 5 rubber grommets that fit perfectly around each cable, to create a waterproof seal. The grommets fit together into a chamber that is mounted below the I/Os and seals all water out.
The TSC-5010 Series runs on the Intel Skylake Core i5 CPU. It has fully waterproof housing (IP66 and IP69K rated, optional IP67) and an optional built-in barcode scanner. This series is available in screen sizes of 15", 19", and 21.5", and with a P-Cap or resistive touchscreen. It is also available with high brightness and optical bonding, for use outdoors, or under bright overhead lighting.
The defining feature of the TSC-5010 series is its cable gland design, which allows it to have more I/O ports. These computers are equipped with 2x COM, 1x Mic-in, 1x Line-Out, 2x LAN, 4x USB 3.0, and 2x DisplayPort. Each computer also comes with a variety of different sized grommets, so you can fit any sized cable through the cable gland.
When installing the unit in your facility, you do not need to plan out junction boxes or protected areas to connect your peripherals to the PC, as the cables run directly into the unit and then are sealed after connection. This can simplify the procedure for installation and ensure more robust protection in wet or humid environments.