Laminator for Release Paper and Paper Containers
Featured Product from TEXMAC, Inc.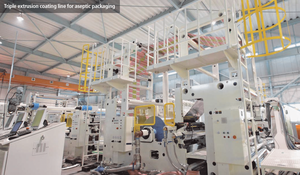 This extrusion coating line uses multiple laminator units to laminate materials for release paper and paper containers.
SHIM (Sumitomo Heavy Industries Modern) is a specialized manufacturer of extrusion molding machines. The company was established in 1955 at the dawn of plastics engineering.
Over the ensuing 50 years, SHIM has been delivering production machinery and systems loaded with state-of-the-art technologies to users around the world.
From packaging materials for the ordinary food products, daily essentials and advanced medical supplies to functional thin films indispensable to information technologies and environmental technologies, the products made on the extrusion systems of SHIM are being used in all corners of society.