IoT Failure Detection for Manufacturing Industry
Featured Product from THK America, Inc.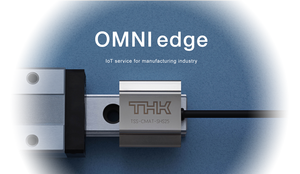 This service analyzes and visualizes data gathered by the THK SENSING SYSTEM, which can be used to improve productivity and lower maintenance costs. The network is set up automatically, so you can quickly install and operate the system regardless of your staff's IoT expertise or experience.
Simple

The network is automatically set up as soon as you install the sensor and turn it on.

Secure

Data is collected and securely managed through a dedicated closed network.

Global

OMNIedge provides comprehensive support for expanding to factories overseas.
THK SENSING SYSTEM
This technology uses an original algorithm and extensive reference data to quantify the damage and lubrication status of an LM Guide. The data is used to diagnose an LM Guide's condition and predict part failure before it occurs. In the future, the system will be expanded for use with ball screws and other machine components.