LM Guide Type SSR
Featured Product from THK America, Inc.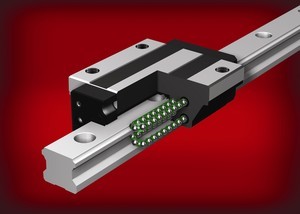 The LM Guide is our main product, incorporating a part with a linear rolling motion into practical usage for the first time in the world. It realizes the development of high-precision, high-rigidity, energy-saving, high-speed machines with long service lives.
SSR Type Caged Ball LM Guide
The use of a ball cage eliminates friction between balls, and achieves low noise, acceptable running sound, long-term maintenance-free operation, and superbly high speed response.
The LM Guide Type SSR has a low mounting height, compact design, a large radial load capacity and is optimal for horizontal guides. The SSR is made for uses in the Semiconductor, Medical and Aerospace industries. THK also makes a new LM Guide SSR Light rail product that can be used in Aerospace designs.