Linear Bush - From THK
Product Announcement from THK America, Inc.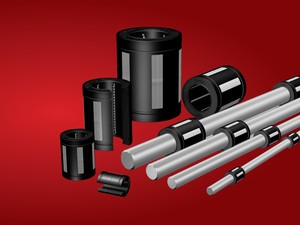 The Self-Adjusting Power Linear Bush
DELIVERING HIGHER LOAD CAPACITY AND LONGER SERVICE LIFE

Schaumburg, IL - (March 28, 2006) THK's new self adjusting type Power Linear Bush is the ultimate in linear bushing technology. The new power linear bush offers higher load capacity and longer service life compared to conventional linear bushings. THK's Power Linear Bush is engineered with cages that are made of a synthetic resin that continually lubricates the rolling elements. The Power Linear Bush also has a uniquely designed, hardened steel ball plate featuring a precisely ground groove that is slightly larger than the ball. This results in an increased contact area between the balls and the ball plate. Together these design features provide load capacities 3 times higher than conventional linear bushings and 27 times longer service life.

THK's Power Linear Bush has extremely smooth and quiet motion due to a uniquely designed ball retainer and outer sleeve. They are constructed of synthetic polymer, which is lightweight, low friction and highly wear-resistant. These characteristics enable moving parts to have rapid motion while requiring lower driving power thereby reducing energy costs.

The convex shape of the ball plate provides a pivot point at the center which allows a self-adjustment capability up to 0.5°. This self-adjustment capability eliminates any possibility of edge pressure caused by inaccurate machining, errors in mounting, or shaft deflection. Self-adjustment capability can compensate for inaccuracies in base machining, reducing installation time and costs.

The Power Linear Bush's ball plates are designated to float in the outer sleeve. This allows clearance between the balls and shaft to be adjusted according to application. The Power Linear Bush is designed to be fully interchangeable with conventional linear bushings.
---