Linear Motor Actuator Type GLM
Featured Product from THK America, Inc.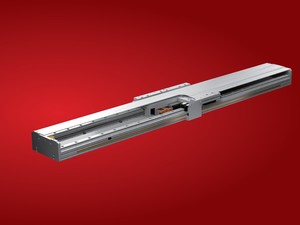 THK INTRODUCES: The new THK Linear Motor Actuator TYPE GLM
THK offers one of the world's most extensive line-up of linear motor actuators and we have products with features that satisfy a wide range of applications. THK's actuators are optimized for LM Guide's rated load and motor heat dissipation, enabling the creation of high-quality linear motion systems. Our actuators can be customized in various ways to conform to LM Guides with different surface treatments and lubrication requirements. Special-purpose units can be also created by combining a discrete linear motor with specially designed mechanisms.
Linear Motor Actuator TYPE GLM offers maximum high speeds of 3m/s.
Sharp acceleration and deceleration of 2G are achieved by reducing its weight as a result of using aluminum parts for the slider. Also reducing the weight of the slider and high ridgity allow superb conformity.
Outstanding positioning accuracy is achieved by full-closed feedback control of linear encoder.
Since the magnetic plates can be jointed, the linear motor actuators can deal with longer strokes that are not possible with ball screw drive actuators.
Multiple sliders can be mounted on a single axis base and controlled independently.
By combining the linear motor with iron core and a Caged Ball LM Guide, low noise and low dust-generating operation is achieved.
THK manufacturers the widest range of linear motion products including conventional LM guides, ball screws, mechanical actuators, ball splines and more. All THK products have been designed and manufactured to meet the strictest requirements. THK's experienced Global Engineering Team can provide customized linear motion solutions with our standard linear motion products as well as our mechatronics products for your most demanding applications.
To learn more, log on to www.thk.com or contact THK America, Inc., 200 E. Commerce Dr., Schaumburg, IL 60173, Phone: (847) 310-1111, Fax: (847) 310-1182, e-mail: chicago@thk.com.