Link Ball with superb abrasion resistance
Featured Product from THK America, Inc.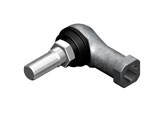 The Link Ball is a spherical slide bearing with a ball stud that provides smooth operation with a minimal clearance. With superb abrasion resistance and large oscillating angle, this product is suitable for the link motion mechanism of various types of automated machines.
This model's holder made of high strength-zinc alloy is connected in perpendicular to the ball shank. With grease pockets provided on the top and bottom of the spherical area, this model achieves high lubricity and high wear resistance.