Roller Guides with Integrated Retainers
Featured Product from THK America, Inc.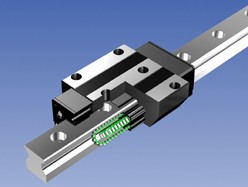 Roller Guides with integrated Retainers SRG15 , 20 The ultra high rigidity Roller Guides SRG Series, with integrated roller retainers providing low-friction and smooth maintenance free motion, gets two new additional sizes, SRG15 and SRG20.
1.Ultra High Rigidity The ultra high level of rigidity is achieved through the use of rollers that exhibit little elastic deformation, and the roller length is designed to be more than 1.5 times the roller diameter. Furthermore, the rollers are orientated in 45° contact angle to provide equal load rating capacity in all loading directions.
2.Long Term Free Maintenance The integrated roller retainers effectively prevent contact between the rollers. They also act as a lubricant reservoir and deposit the required amount of lubrication to the rollers during their recirculating motion. The combined effect of these features makes for long term maintenance free motion.
3.Smooth Motion by Prevention of Roller Skewing Guided by the integral retainers, the rollers circulate in a uniform manner. This prevents the rollers from skewing while they enter into the loading zones, minimizing rolling resistance variations and providing smooth and stable motion.
Model Types:
- SRG15A - SRG15V - SRG20LA - SRG20A - SRG20LV - SRG20V