THK America - Mechatronics Division -
Featured Product from THK America, Inc.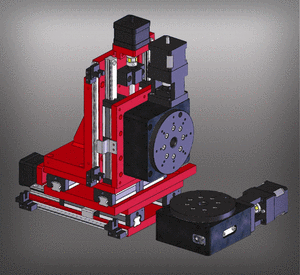 THK's Mechatronics Division offers customized, turn-key solutions to your linear and rotary motion challenges. Mechatronics systems range from purely mechanical systems where the customer integrates the motion control to all-encompassing automation solutions where the customer receives a complete plug-and-play system out-of-the-box. Whether you require a one-of-a-kind multi-axis system, or a standard single-axis actuator, the highly-skilled Mechatronics engineering team will design the right solution according to your unique specifications.
Mechatronics units are built with THK's durable, high-quality LM guides, ball screws, and rotary motion components. In addition, THK's Caged Ball Technology delivers long service life and excellent high-speed performace while eliminating maintenance over a long period of time. As THK is the industry leader in linear motion, why not let us fulfill your automation needs? If you have a linear and/or rotary motion application you wish to pursue with THK, please contact your local THK sales representative to discuss your application in detail.