The THK LM Guide
Featured Product from THK America, Inc.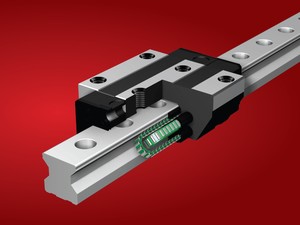 The LM Guide is our main product, incorporating a part with a linear rolling motion into practical usage for the first time in the world. It realizes the development of high-precision, high-rigidity, energy-saving, high-speed machines with long service lives.
SEARCH BY APPLICATION (CLICK HERE)
CAGED BALL LM GUIDE
Use of a ball cage eliminates friction between balls, and achieves low noise, acceptable running sound, long-term maintenance-free operation, and superbly high speed response.
[Model number]
SHS, SSR, SNR/SNS, SHW, SRS, SCR
CAGED ROLLER LM GUIDE
A ultra high rigidity Roller Guide that achieves low friction, smooth motion and long-term maintenance-free operation by using a roller cage.
[Model number]
SRG, SRN, SRW
LM GUIDE (FULL BALL TYPE)
LM Guide(full-ball type) A series of types are available from miniature types to large types for machine tools, from linear guides to curved guides that suit a wide-range of applications.
[Model number]
HSR, SR, NR/NRS, HRW, RSR/RSR-W, RSR-Z, RSH, RSH-Z, HR, GSR, GSR-R, CSR, MX, JR, HCR, HMG, NSR-TBC, HSR-M1, SR-M1, RSR-M1, HSR-M2