Connectors Industrial Automation and Food/Beverage
Product Announcement from TLC Electronics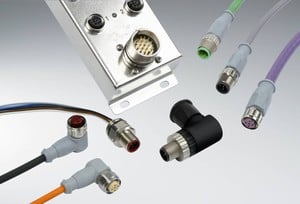 The SAL Series connectors are sealed to IP67 and IP69K requirements with specific configurations designed especially for the industrial automation and food/beverage industries operating at extreme temperatures up to 125°C. The dimensions and construction of the SAL series circular connectors complies with IEC 61076-2-101 standards for harsh environments.
"As more and more factories become automated with robotics, motion control systems and servomotors, the need for a variety of I/O connectors increases," said Peter Persico, technical support specialist for CONEC. "This product series consists of overmolded cable assemblies, panel mounted plugs and sockets with flying leads and field attachable connectors in both axial and right angled configurations."
SAL series connectors are available in a variety of overmolded sizes and styles, including M12, M8 and 7/8". To meet the high demand for performance in harsh environments. The M12 connector is available in 4-12 positions, the M8 is available in 3 and 4 positions and the 7/8" is offered in 3, 4 and 5 positions. CONEC also offers the M12 connector series for BUS systems such as Profibus DP and 100MHz Industrial Ethernet applications.
Contact your TLC Electronics' solutions provider today at 651-488-2933 or tlcsales@gmail.com to learn more about the interconnect products available from Conec and TLC Electronics.
TLC Electronics, Inc. is an authorized distributor of electromechanical components from several manufacturers of high quality products including Conec. For more information on the electromechanical solutions and services available from TLC Electronics, see www.tlcelectronics.com.
---