Drafting Services
Service Detail from TLC Electronics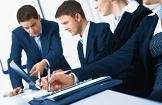 This new service offering is part of TLC Electronics' value added services to meet customers' prototype through production requirements. TLC offers drafting services as a lower cost alternative to using in house resources. Engineering drawings for processed wire, cable assemblies, wire harnesses and electro-mechanical sub-assemblies are created in VISIO. The engineering drawings are created in accordance with standardized conventions for layout, nomenclature, interpretation, appearance and size or TLC will use the customer's specific drafting procedures if available and the procedures are within TLC's capabilities.
Steven Olson, TLC's sales and marketing director commented, "We realized that during the economic downturn, many companies learned to do more with less, including fewer employees. Now as business activity increases and management is hesitant to add staff, it is vital to ensure that key employee resources are used cost-effectively. This may include outsourcing of drafting requirements as opposed to using design engineers to accomplish this task. TLC has experienced personnel on staff for creating drawings; therefore, we decided to offer this service to our customers."
ABOUT TLC ELECTRONICS, INC.
TLC Electronics, Inc. is a leading distributor of interconnect and electromechanical products offering a wide range of services to meet customer specific applications. These services include precision wire and cable assembly, fan and blower assembly, power supply modification, electromechanical subassembly including turn-key enclosure assembly and drafting services.
TLC Electronics is certified under ISO9001:2008 and is UL/CUL recognized. TLC's account managers and inside sales personnel are trained in the electromechanical product lines and services offered and are prepared to assist customers and prospects with solutions for their specific application. See www.tlcelectronics.com for more details on the products and services offered by TLC Electronics.
For additional information, please contact Steven Olson, TLC Electronics' sales and marketing director at 651-558-2582 or via email s.olson@tlcelectronics.com.

Play Drafting Services Video on YouTube
---