M-12 X-Code Connectors for Harsh Environments
Product Announcement from TLC Electronics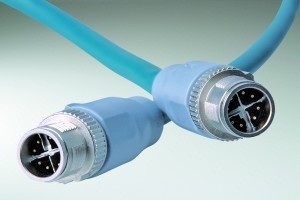 CONEC, a manufacturer of high-quality connectors, has developed the rugged M12x1 X-code connectors for industrial communications applications.

The M12x1 X-code connectors are designed for transmission technology to CAT6A and 500 MHz/10 gigabit speeds, and are standardized to IEC 61076-2-109 standards. The M12x1 X-code connectors have four shielded pairs within the small M12 connector frame, and come in standard cable lengths of 1, 2, 5, and 10 meters, and an additional female socket option with PC tails for panel mounting.

"Manufactured using industrial-grade materials and machined contacts, the M12x1 X-code connectors combine reliable high-speed data transmission with rugged connector construction," said Peter Persico, Technical Support Specialist at CONEC.

For more information on the M12x1 X-code connectors, contact your TLC Electronics' solutions provider at 1-800-852-6694, tlcsales@gmail.com, fax 651-488-3246 or see our web site www.tlcelectronics.com.
About CONEC
CONEC is a leading manufacturer of connectors for the industrial electronics and communications industries. The organization is customer-oriented and dedicated to advancing the connector industry through innovation, quality and excellent service. CONEC products achieve the highest quality standards and industry specifications, providing reliable and effective solutions to OEM, EMS and cable assemblers.
About TLC Electronics
TLC Electronics is a value-added distributor of high quality, readily available and competitively priced electromechanical components and assemblies. Operating out of a 38,500 square foot faciltiy in St. Paul, MN, we ship components and subassemblies worldwide to customers that develop and manufacture products that enhance the lives of others. From "Prototype Through Production", TLC Electronics' solutions providers are ready to help solve your complex electromechanical issues.
---