Robust Industrial Ethernet Circular Connectors
Product Announcement from TLC Electronics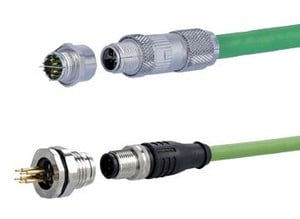 RIA Connect (Metz Connect) offers four pin D-Coded M12 cable assemblies and PCB receptacles for use in Industrial Ethernet applications. Also offered are the new CAT6A compliant, eight pin X-Type M12, which supports 10Gbps as per the IEEE 802.3an standard. This enhanced design M12 field plug features an integrated IDC system which allows for multiple field terminations, while still providing a very respectable IP68 rating. The sleek two-piece zinc die-cast housing has knurled barrels for finger friendly fastening.
See more information about RIA Connect's (METZ Connect) industrial Ethernet offering of products at: http://www.riaconnect.com/industrial_ethernet.asp.
ABOUT TLC ELECTRONICS
TLC Electronics, Inc. is a Minnesota based value-added distributor of electromechanical components and interconnect products including RIA Connect's full line of interconnects .
See www.tlcelectronics.com for more details on the products and services offered by TLC.
ABOUT RIA CONNECT (METZ CONNECT)
RIA CONNECT offers terminal blocks, board-to-board connectors, RJ45 jacks, USB ports and industrial ethernet connection systems including M12 ethernet. Located in Tinton Falls, New Jersey, RIA CONNECT is a METZ CONNECT Company.
See www.riaconnect.com for more details on the products offered by RIA Connect.
---