Rugged IP67 Sealed USB Connectors
Product Announcement from TLC Electronics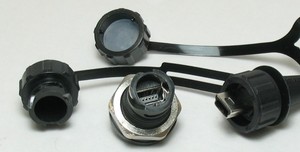 CONEC, a manufacturer of high-quality connectors, has expanded its bayonet-locking and water-resistant series of connectors with a mini-USB connector compliant with USB 2.0 specifications. The new mini-USB connector provides design engineers a highly reliable option for the harshest environments. This connector is part of CONEC's expansive IP67-rated family widely used in industrial production, food/beverage, chemical controllers process, outdoor wireless, Bluetooth adapters, diagnostic and test instruments, oil/gas and factory automation applications.
"The expanded use of the USB interface has significantly impacted the packaging and options available in various USB connector types," said Peter Persico, technical support specialist at CONEC. "In order to address the harsh environment industry, CONEC expanded its IP67 family to include these mini-USB connectors that are robust enough to withstand the most extreme environments."
CONEC's water-resistant mini-USB products feature robust internal components housed in black plastic with a bayonet locking-ring method. Compared to threaded connections, the bayonet feature provides a fast assembly, and audible 'snap' indicating the connectors are securely mated and therefore watertight. The bayonet feature is compact at just 12mm diameter, and vibration resistant. The interface meets IP67 requirements when a mating connector is inserted or when covered with a secured protective cap.
The mini-USB connector contacts are phosphor bronze and gold-plated with a contact resistance rated at a maximum 50mA and insulation resistance of 100mA. Current ratings are 1.0A maximum at 25°C, and operating temperature ranges from -40°C to +80°C.
The product line includes a panel receptacle which may be PCB-mounted or used with a flex circuit, protective caps and pre-terminated jumper cables with an overmolded Mini-USB type B plug. The patch cables are available in various lengths (2, 3 & 5 meter standard lengths) and are terminated to an overmolded USB Type A standard plug.
The IP67 mini-USB connectors ensure a watertight connection securely sealed against dust and environmental ingress.
To receive more information on the rugged mini-USB interconnects from Conec, contact authorized Conec distributor TLC Electronics at tlcsales@gmail.com, 651-488-2933 or see www.tlcelectronics.com for links to the Conec web site.
About CONEC
CONEC is a leading manufacturer of connectors for the industrial electronics and communications industries. The organization is customer-oriented and dedicated to advancing the connector industry through innovation, quality and excellent service. CONEC products achieve the highest quality standards and industry specifications, providing reliable and effective solutions to OEM, EMS and cable assemblers.
---