"Space-Saver" PC Board Edge-Mounted BNC Connector
Product Announcement from TLC Electronics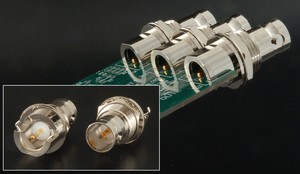 The Space-Saver has a "notch" in the connector that slips over the edge of a PC board prior to soldering, forming a tight mechanical fit that transfers the majority of the rotational energy to the PC board instead of more vulnerable solder joints.
Another advantage of Regal's Space-Saver BNC edge mounted design is that the center pin and connector body are soldered directly to a PC board, minimizing the "antenna effect" caused by typical elevated mounting approaches and associated EMI/RFI problems at higher frequency ranges.
The new Regal "Space-Saver" BNC connector has a 75 ohm impedance and is tested to 2 Ghz. Samples of the new connectors are available for prototype applications by contacting TLC Electronics at 651-488-2933 or tlcsales@gmail.com.
---