Thermally Protected Varistors RoHS Approved
Product Announcement from TLC Electronics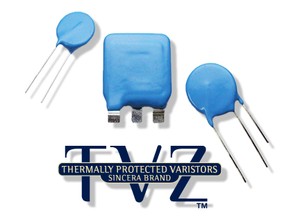 World Products, LLC gains RoHS approval on the 25mm, round disk TVZ varistor. Approvals for the 14mm, 18mm, 20mm, 25mm and 34mm are in process. WP has also submitted the entire line of TVS diodes for VDE/AnnexQ approvals.
One lead of the TVZ varistor is connected to a thermal fuse which is designed to open when the varistor is under sustained abnormal over-voltage conditions. The TVZ series is designed to meet the abnormal over-voltage requirements of UL 1449 3rd edition, Section 39.4.
Traditional Metal Oxide Varistors withstand 150% of its rated voltage for a given duration. But Metal Oxide Varistors may fail to a short-circuit condition or fail to open when subjected to sustained steady-state over-voltage above its rated specifications. TVZ has a thermal fuse integrated with an MOV disk that responds to the MOV temperature and disconnects the MOV from the line, should the temperature or voltage exceed a certain level.
World Products Inc. three-leaded device is designed to be connected, via the monitor lead, to an indicator (such as an LED) to provide diagnostic features indicating if the MOV is disconnected from the circuit in the event the fuse element opens.
As a result of the integration of the thermal fuse attached to the MOV disc, Thermally Fused Varistors provide an instant response to unexpected over-voltage situations. Lower inductance is another benefit of the inclusion of a thermal fuse, enhancing clamping performance to sudden over-voltage transients. World Products Inc. Thermally Protected Varistors offer protection to sensitive downstream electric components.
Additionally, TVZ varistors are wave solderable which simplifies end product assembly by reducing the expense and rework associated with hand soldering operations.
Contact TLC Electronics, Inc. today for more information. www.tlcelectronics.com
---