TOPSFLO Solar 12V DC Hot Water Circulation Pump
Featured Product from TOPS Industry & Technology Co., Ltd.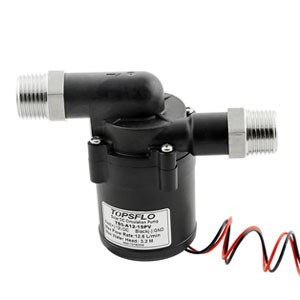 Features:
1. Voltage: 6V-24V DC (Rate:12V DC)
2. Soft start at very low in-rush current, good convenient working directly with PV panel
3. Advanced magnetic drive technology for static-impeller, without any leakage for ever
4. Max system pressure: 10Bar
5. Max working temperature: 110ºC (230ºF)
6. Min start-up power consumption less than 2 Watt
7. Low noise: 45dB(A) far from 1m distance
8. Heavy duty work, can sustain continual 24 hours' work
9. Low power consumption,Low or no maintenance
10.Certificate: CE,RoHS,FDA,REACH,WRAS,ISO9001 TUV IATF16949
PV operated
For solar system loops, the TS5 pump can be powered directly from a PV panel. The sun comes up, heat builds in the solar hot water panel and at the same time electricity is made in the PV panel. The pump slowly starts with the smallest amount of current and pushes the heated water to the storage tank. It's all too simple and eliminates all controllers, thermostats and sensors.

Application:
* Solar Water Heating Systems
* Hot Water Circulation
* Radiant Floor Heating
* Heat Transfer Applications
* 12V Operated Cooling Systems
* Food Liquid Transfer
* Hot Wort Transfer Pump for Home Brewing