3 Axis Stepper Motor Drive XYZ Assembly
Featured Product from TPA Motion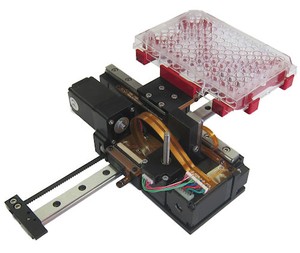 Our robots are fully featured XYZ motion systems for moving microplates, glass slides or other payloads around inside your instrument. Each robot is hightly integrated and optimized for size, enabling the most compact instrument possible. We have standard designs or we can work to your design specifications to meet your performance requirements.
Power and Sensor data all within Flat Flex Cable (FFC) to make unit more compact and simplify wiring and cable management.
End of travel sensors embedded in Printed Circuit Boards (PCBs) in close range to magnets embedded in machined structure to eliminate alignment issues and increase reliability.
Physical Size
Length: 220 mm (8.7")
Width: 180 mm (7.1")
Height: 80 mm (3.1")
Travel or Stroke
X-axis: 160 mm (6.3")
Y-axis: 125 mm (4.9")
Z-axis: 10 mm (0.40")
Typical Payload is less than 500 grams (about 1 pound)