Advanced Dielectric Composites from TPL
Product Announcement from TPL, Inc.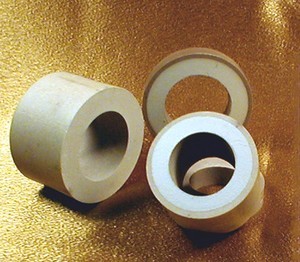 TPL's composite dielectric material represents a significant breakthrough in dielectric materials for high energy density capacitors. Efforts in this area have transitioned from materials development, supported by basic R & D contracts, to device fabrication for a number of pulsed power and directed energy applications.
TPL has developed composite materials possessing a high dielectric constant (k>50) and forming capabilities of a polymer. The nanocomposite dielectric can be molded into engineering substrates or cast into complex electrode structures for producing high voltage capacitive components. TPL has established processes for fabricating substrate dielectric and capacitors in a number of configurations including strip lines, rods, sheets and blocks.
Ceramic Components
TPL designs and produces specialty ceramic components using formulated titanate powder. Specialty parts, primarily for high voltage and high frequency applications, are produced to meet custom dimensions and electrical properties. TPL's processes accommodate a range of capacitor and substrate geometries. In addition, powder formulations are tailored to achieve specific performance characteristics including dielectric constant, dielectric loss and insulation resistance.
For additional information contact us:
TPL, Inc.
3921 Academy Parkway North, NE
Albuquerque, NM 87109-4416
USA
Phone:(505) 342.4439
---