MSP's Direct Liquid Injection Vapor Solutions
Featured Product from TSI Incorporated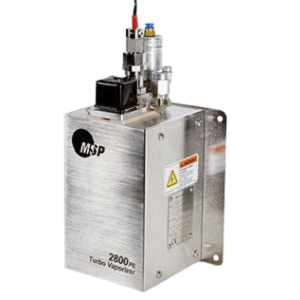 Better Vaporization – More Process Options
Vaporizers are used in gas phase processes to transition a liquid into a gas for thin film deposition or other processes that require a vapor (metal etch, doped epitaxial growth, etc). Vaporizers are widely used in:
CVD (Chemical Vapor Deposition)
PECVD (Plasma-Enhanced Chemical Vapor Deposition)
MOCVD (Metal-Organic Chemical Vapor Deposition)
ALD (Atomic Layer Deposition)
Wider Process Window. Improved Film Quality. Less Maintenance.
MSP's Turbo-Vaporizers™ use a droplet vaporization, direct liquid injection technique. Our vaporizers use advanced technology in aerosol science and thermo-dynamics to create a more refined solution to vaporizing liquids.
In thin film applications, our Turbo-Vaporizers' stable and uniform vapor leads to a higher quality thin film and higher wafer yields with less down time. MSP's Vaporizers provide faster response time, high precision flow control, and are able to operate at high temperatures.
Features and Benefits:
Extremely stable concentration output
Low temperature vaporization/reduced risk of thermal decomposition
Longer Mean Time Between Repair (MTBR)
Ability to vaporize difficult precursors
Direct liquid injection - vapor on demand
Higher vapor concentration potential
Applications include:
Semiconductor Microelectronics
LEDs Optoelectronics
Protective Coatings
Nanoparticle Synthesis
Energy Production/Storage
Powder/Fiber Processing
Solar Photovoltaic
Medical Device
Bio Assays