RAPID-RESPONSE SORTING AND CONTAINMENT SERVICES
Service Detail from TÜV Rheinland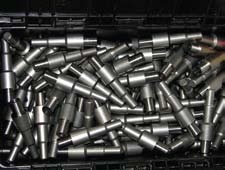 TÜV Rheinland Industrial Services (TRIS) has introduced a new service intended to quickly minimize OEM production disruptions when out-of-specification products have entered the supply chain.
Dubbed C.E.R.T., for Containment Emergency Response Team, the team is comprised of certified inspectors who are readily deployable nationally and internationally to respond to suspected quality issues throughout the supply chain. Using non-destructive testing techniques, the team provides rapid on-location inspection, sorting and containment services to quickly minimize the likelihood of faulty products causing production shutdowns.
While adhering to JIT and Lean Manufacturing principles can lower production costs, the necessitated minimal inventory volumes can magnify the cost of faulty products entering the supply chain. Often, a product defect is not discovered until well after the part is already on trailers, in transit, on the customer's floor, or in assembled products on vehicles. Our team can travel to the where the suspect products are located to provide on-site inspection, sorting and containment services to minimize possible production disruptions.
As the recent Japanese earthquake and tsunami have shown, it can only take one missing component to quickly bring an entire production line to a halt. Our C.E.R.T. service can be thought of as the paramedics for the industrial world, quickly getting to the scene and applying on-site services to keep the production line moving.
C.E.R.T. inspectors are ASNT-TC-1A qualified using procedures from A2LA 17025:2005 laboratory accreditations. They are qualified in both laboratory and field services. TRIS is a Tier 1 NDT service provider to General Motors and performs inspections on parts for almost every auto manufacturer. TRIS is accredited to test Pressure Equipment Directive and has inspectors that can test to EN473 (European NDT standards).
Both laboratory and field-based inspection services are available multiple industries including: chemical, petrochemical, power generation, food processing, pulp and paper mills and general manufacturing. In addition, services are available to government agencies, storage facilities, architectural/engineering companies and education facilities
TRIS provides inspection services using a variety of inspection techniques including visual, real-time X-ray, computed and film radiography and eddy current as well as hardness, magnetic particle, ultrasonic, and liquid penetrant testing. In addition to its on-location capabilities, TRIS maintains centrally located laboratories in Michigan, Pennsylvania and Alabama.
---