What is a Remote Audit?
Service Detail from TUV Rheinland of North America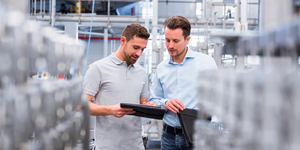 Being more efficient. Systematically. With innovative remote audit solutions by TÜV Rheinland!
Change creates the new normal. Globalization, digitization, competition leads to new conditions, new complexities and new technologies. Future success needs a reliable, sustainable and innovative system. TÜV Rheinland offers you audits from a distance, so called 'Remote Audits', for Management System certifications. Efficient and flexible solution. Worldwide. Innovative remote audits are carried out as a real-time virtual solution. It will enable you to be ready for the future. Continuously.
Increase the flexibility and lower Cost
The execution of remote audits offers your company a number of opportunities in today's world. With the help of remote services, companies have the opportunity to save both time and money, for example by avoiding costly additional appointments on site. In this way they reduce unnecessary additional work and increase the efficiency of auditing & certifications.
As the auditor does not have to visit you on site, the audit – or at least a part of it – takes place online. This will lower the effort, leads to savings in travel costs and thus lowers the costs.Coordinating an audit with several participants will be coordinated with less expense, what leads to more flexibility. Our remote audits are designed to provide the same level of quality and technical expertise as our conventional audit methods – in a safe and flexible manner.
Below you will find detailed information about how exactly we conduct such remote audits; which requirements must be met by both parties, and what has changed in the auditing and certification process with the use of digital technologies.
What is a Remote Audit? – Definition
A remote audit is a new form of auditing, during which the physical presence of an auditor is no longer absolutely necessary. Instead, the auditor uses digital technologies to connect remotely. The technologies used in a remote audit can include the following:
Live web streaming technology such as Skype for Business, Webex or Zoom
Live streaming in combination with mobile apps on a smartphone or tablet
Live streaming combined with smart glass technology and video headsets
Prerequisites and Framework Conditions for Remote Audits: What is Possible?
Due to the current situation, many accreditation bodies and scheme owners have specified a number of special provisions and individual requirements for the standards and permit remote audits under defined conditions partly or in full extend which are conducted online.
To support you quickly and effectively, we hold virtual meetings via "Skype for Business" or Zoom. During these remote audits, documents can be exchanged in real time, interviews with responsible employees can be conducted and production process can be observed using video-in-live transmissions. To ensure that this process runs smoothly and without undue delays, we carry out a test of the internet connection and the implemented information and communication technology with you beforehand.
We have listed all the audits that may be conducted remotely
About TÜV Rheinland
TÜV Rheinland is a global leader in independent inspection services, founded nearly 150 years ago. The group maintains a worldwide presence of more than 20,000 people. The independent experts stand for quality and safety for people, technology and the environment in nearly all aspects of life. TÜV Rheinland inspects technical equipment, products and services, oversees projects, and helps to shape processes and information security for companies. Its experts train people in a wide range of careers and industries. To this end, TÜV Rheinland employs a global network of approved labs, testing and education centers. Since 2006, TÜV Rheinland has been a member of the United Nations Global Compact to promote sustainability and combat corruption. Website: www.tuv.com
.