Onsite EMC Testing
Service Detail from TUV Rheinland of North America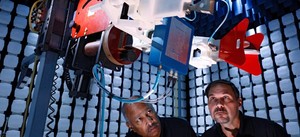 Electromagnetic Compatibility (EMC) Testing and Certification
Safety and compliance are twin pillars of EMC certification
Manufacturers of electric and electronic devices in a wide range of industries, from automotive and railway to household and leisure goods to medical and laboratory equipment want to ensure that their products function safely and effectively. Electromagnetic interference and susceptibility that is merely annoying in one context can be life-threatening in another. To prevent this, electric and electronic devices have to adhere to electromagnetic compatibility (EMC) guidelines and must bear the CE marking. Anybody wanting to bring such products onto the European market has to comply with the EMC directive 2014/30/EU.
Our EMC testing regime takes these standards into account, issuing certification for compliance with international market regulations. Testing is carried out by experts in our state-of-the-art laboratories or, in many cases, conveniently on-site. We are thorough, awarding a test mark only after both an initial inspection and repeated checks of production sites.
We have earned the respect and trust of industry leaders and international authorities. As a "Notified Body" within the framework of the EMC directive in Europe and listed by the US Federal Communications Commission, our test mark reflects a commitment to excellence recognized globally.
EMC testing for market access and a competitive edge
Wherever you market your electric or electronic products, from Europe to Australia, Japan to North America, you are required to meet EMC regulations. Undergoing testing and obtaining certification by a respected third party service provider not only ensures market access, but sends a signal to consumers within those markets. You gain a competitive edge with our test mark, which signals quality and gives customers a reliable point of reference when making decisions in an increasingly competitive environment.
Connect with us on:
About TÜV Rheinland
TÜV Rheinland is a global leader in independent inspection services, founded nearly 150 years ago. The group maintains a worldwide presence of more than 20,000 people. The independent experts stand for quality and safety for people, technology and the environment in nearly all aspects of life. TÜV Rheinland inspects technical equipment, products and services, oversees projects, and helps to shape processes and information security for companies. Its experts train people in a wide range of careers and industries. To this end, TÜV Rheinland employs a global network of approved labs, testing and education centers. Since 2006, TÜV Rheinland has been a member of the United Nations Global Compact to promote sustainability and combat corruption. Website: www.tuv.com
.