The benefits of expert machinery inspection
Service Detail from TUV Rheinland of North America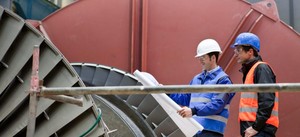 Optimize the operating safety and performance of your industrial equipment
No matter what you produce, you want your machines to run as safely as possible, with as few interruptions as possible. We offer the tools to help you achieve these goals with our extensive service portfolio. Third party reports and approvals issued by our experts are internationally recognized and signal your commitment to a safe working environment and high quality standards.
Taking into account applicable regulations, our assessment aims to minimize your machines' defects and downtime while maximizing safety and sustainability.
As a Notified Body and accredited test laboratory for machinery, we are a trusted partner in industrial machine inspection. We would like to put our experience and expertise in the field to work for you.
Speak with a member of our team to find out how to get started with inspections that suit your needs.
Experience the benefits of expert machinery inspection
Once your company has earned our independent approval, you will be able to reap the benefits. The approval is recognized worldwide, and comes with documentation of safety standards, which can reduce liability. It is also a selling point for manufacturers, giving you an edge over the competition. Internally, you will be able to better avoid defects and all the risks, costs and inconveniences they create.
Through our global machinery assessment service, we conduct testing and certification of machinery according to international standards and regulations – from the EU Machinery Directive to OSHA in the US as well as customer specifications. This allows you to keep track of the constantly changing safety regulations for new, old and modified machinery on a local and global level and ensure the conformity of your machinery.
Our experts test and evaluate the following machinery for you
Packaging machines
Filling machines
Injection molding machines
Presses
Woodworking machines
Printing and paper machines
Semiconductor manufacture equipment
Robots
3D-printers
Laser processing machines
Manufactoring equipment
Others
Connect with us on:
About TÜV Rheinland
TÜV Rheinland is a global leader in independent inspection services, founded nearly 150 years ago. The group maintains a worldwide presence of more than 20,000 people. The independent experts stand for quality and safety for people, technology and the environment in nearly all aspects of life. TÜV Rheinland inspects technical equipment, products and services, oversees projects, and helps to shape processes and information security for companies. Its experts train people in a wide range of careers and industries. To this end, TÜV Rheinland employs a global network of approved labs, testing and education centers. Since 2006, TÜV Rheinland has been a member of the United Nations Global Compact to promote sustainability and combat corruption. Website: www.tuv.com
.