Low-Profile MLCC with Doubled Capacitance for 5G
Featured Product from TAIYO YUDEN (U.S.A.) Inc.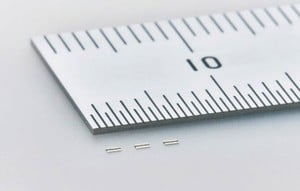 TAIYO YUDEN announced the commercialization of the lowprofile multilayer ceramic capacitors AWK105 BJ474MN and PWK105 C6474MN (both 0.52 x 1.0 x 0.1 mm, maximum height).
These multilayer ceramic capacitors are ideal for devices that are required to be thin, such as smartphones and wearables, for decoupling the IC power supply lines inside the devices. They have achieved not only a low ESL thanks to the external electrodes placed lengthwise but also a capacitance of 0.47 μF, about twice the capacity of our conventional capacitor AWK105 BJ224MN.