Rotary Dampers - Specs & CAD Files available
Featured Product from Takachiho America, Inc.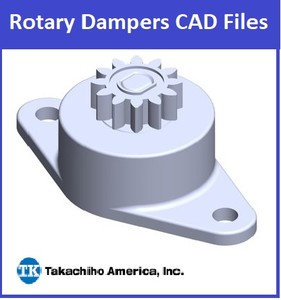 Rotary dampers are found in a variety of industries such as furniture, cabinets, automotive, and the electronics industry (e.g., CD door or tray opens slowly). Rotary dampers can also be found in Camcorders, dvd players, cell phones, copy machines, laptops, tape players, and toilet seats.
The rotary damper contains different grades or blends of silicone to produce varying torque values to offer specific limitations or speeds of the moving piece. Many different rotary damper torque values are available and rotary dampers have many gear types to choose from. Rotary damping is used in everything from car door handles to garbage can lids to create a quiet movement.
To receive CAD Files or customized spec requests for your rotary damper needs contact us by using the e mail link on this page.