The best dampers for your innovative designs.
Featured Product from Takachiho America, Inc.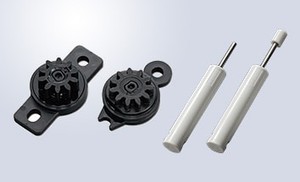 Dampers
With our dampers, you can add a sophisticated and smooth soft-closing movement to your lid closing design. Takachiho Americas dampers utilize the braking force that is generated by the silicone oils velocity resistance to provide the soft-closing feature. We offer Rotary, Linear (shock absorbing), Disk, and other various types of dampers to suit your needs and will work with you to recommend the best dampers for your innovative designs.
Download Line-up Catalog Dampers
Takachiho America
Takachiho America (TK America), Inc. was established as a subsidiary of Takachiho Koheki Co., Ltd.(TK) in 2015. Founded in 1952, Takachiho Koheki has the pedigree of a thoroughbred technology trading company of cutting edge mechanical and electrical components around the world.
Takachiho America focuses on Motion Control Solutions and Business Development.
Motion Control Solutions
As a leading supplier of mechanical components such as slide rails, soft absorbers, dampers, conston springs, and cable guides worldwide, our technically trained sales team works with our engineers to develop innovative and reliable products to meet the demand of our customers in every manufacturing industry.
Our services include:
Design Consultations
Development and Customization of Mechanical Components
Preparation for Mass Production