Fluoropolymer Etching Solutions that Stick
Service Detail from Technetics Group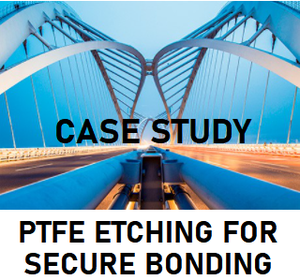 PTFE is engineered for a low coefficient of friction. Bonding a PTFE sheet to other surfaces requires that the surface of the PTFE be modified utilizing a chemical etching process.
Technetics PTFE & Polymer Solutions is a leader in sodium ammonia fluoropolymer etching with over 45 years experience to ensure you receive the long lasting, durable, uniform surface modification you require. When compared to sodium naptolene processes, our sodium ammonia etching have been proven to be the preferred solution with its superior performance and design to give you the bondable surfaces you need on any fluoropolymer quickly and efficiently.
EXPERIENCED WITH ALL FLUOROPOLYMERS
We prepare a wide range of fluoropolymer materials for bonding to metal, plastic, or other substrates. Whatever type of virgin or filled fluoropolymer you are using, (PTFE, PFA, FEP, ETFE, PCTFE, PVDF, ECTFE) you can count on Technetics PTFE & Polymer Solutions for the precise surface treatment required for an excellent bond every time. Whether you're working with close tolerances on films, sheets, tubing or other three-dimensional shapes, we can provide the surface that has the high coefficient of friction, high purity or excellent chemical resistance you want.
Read this Case Study "Fluoropolymer etching succeds in bridge bearing application"