Fused Quartz Rods
Featured Product from Technical Glass Products, Inc. - OH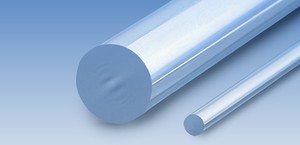 Technical Glass Products offers fused quartz rods in a variety of sizes.
Technical Glass Products specializes in custom fabrication of fused quartz products to your exact specifications. From small diameter apparatus to large diameter furnace tubes and bell jars, our experienced craftsmen have decades of experience that enables us to exceed your expectations for quality.
Technical Glass Products also offers a wide range of standard products for immediate shipment for your glassblowing needs:
We are known world wide for our quality, service and competitive pricing. We are world leaders in the fused quartz fabrication industry, and have the pleasure to be an authorized distributor and fabricator for a number of quartz raw material suppliers, including:
Technical Glass Products, Inc., founded in 1990 as a fabricator of Fused Quartz Glassware. We excel in technical product assistance of all types including design, temperature ranges and purity level qualifications.
Because of our state-of-the-art equipment and methods, we are capable of achieving the industry's most stringent standards and tolerances. Our products are always fully guaranteed for workmanship and quality.