The exceptional properties of Opaque silica glass
Featured Product from Technical Glass Products, Inc. - OH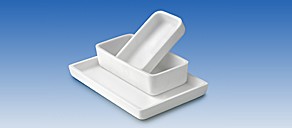 The opaque quality comes from quartz sands of high purity when reduced to a molten state at a temperature of approximately 2000° C. The high temperature produces a vitreous material characterized by the presence of a multitude of gaseous micro-bubbles. These bubbles diffract light, giving the material its opacity or white appeance. The term opaque silica is mainly used for molded or centrifuged parts, while the product obtained by drawing is normally referred to as translucent.
Opaque silica glass offers a number of exceptional properties, such as:
Extreme Hardness
Low Expansion
Excellent High Temperature Resistance
Extreme Chemical Purity
Excellent Corrosion Resistance
Excellent Electrical Insulation Properties
Remarkable Stability Under Atomic Bombardment
Opaque Fused Quartz Labware & Trays:
ABOUT TECHNICAL GLASS PRODUCTS
Technical Glass Products, Inc., was founded in 1990 as a fabricator of Fused Quartz Glassware. Our commitment to excellence has resulted in TGP becoming America's fastest growing supplier of stock shapes and fabricated products in the industry.
TGP has two manufacturing facilities, which allows us to maintain a broad inventory of labware, flat stock, rod and tubing. These items are all supported by the finest engineers, machinists and glass blowers in the industry. Therefore, we can strategically satisfy our customers' requirements.
We also excel in technical product assistance of all types including design, temperature ranges and purity level qualifications. Because of our state-of-the-art equipment and methods, we are capable of achieving the industry's most stringent standards and tolerances. Our products are always fully guaranteed for workmanship and quality.
Technical Glass Products is proud of its expertise, and we welcome the opportunity to supply all of your quartz needs.
Ordering online is easier than ever.
Silica is found almost everywhere in nature, and represents almost 1/3 the mass of the earth's crust. Vitreous Silica is the generic term used to describe all types of silica glass, and manufacturers refer to the material as either Fused Quartz or Fused Silica.
Fused Quartz is manufactured by melting naturally occuring crystalline silica, such as sand or rock crystal. The production method is either electrically fused or flame fused. Afterward, items will appear transparent, translucent, or opaque; making it possible to create a wide range of products.
Fused silica, commonly referred to as synthetic fused quartz, is produced using high purity silica sand that is manufactured from SiCL4. The finished product's appearance will be transparent.
Vitreous Silica, in all its forms, offers a variety of properties such as:
Permeability
Extreme Hardness
Very Low Coefficient of Thermal Expansion
Resistance to High Temperature
High Chemical Purity
High Corrosion Resistance
Extensive Optical Transmission from Ultra-Violet to Infra-Red
Excellent Electrical Insulation Qualities
Remarkable Stability Under Atomic Bombardment
Internal Pressure Calculations
Because fused quartz is used in applications involving internal pressures, it is helpful to know the maximum pressure that can be applied to a selected fused quartz tube. The formula below can approximate this information at room temperature. In addition, there are helpful calculator applications available here.
Cleaning
The cleaning of fused quartz is critical before it is used in any application. The fused quartz should be cleaned by placing it in a 7% maximum solution of Ammonium Bifluoride for no more than ten (10) minutes, or a 10% volume maximum solution of Hydrofloric Acid for no more than five (5) minutes. After cleaning, using the above method, the fused quartz should be rinsed in deionized or distilled water and then dried.
To further reduce the possibility of contamination, care should be used in handling fused quartz. The use of clean cotton gloves at all times is essential.
Running In Procedure
In order to increase resistance to devitrification and sag of your quartzware, an even layer of cristobalite must be formed on the O.D. of quartz tubes. Expose a new tube to a temperature of up to 1200°C and rotate it 90° every two (2) hours for the first 12 to 24 hours.
Storage
Space permitting, fused quartz should be stored in its original shipping container. If that is not practical, at least the wrapping should be retained. In the case of tubing, the end coverings should be kept in place until the product is used. This protects the ends from chipping and keeps out dirt and moisture which could compromise the purity and performance of the tubing.
Because The Products Are Annealed
Both quartz and silica glass are annealed at approximately 1150°C. However, they reach a strain point at about 1120°C. These glass products, if rapidly cooled after use at temperatures above this strain point, will develop strain again. Special care should be taken when using large sized products.
When Joining Fused Quartz And Other Materials
Quartz and silica glass only slightly expand with increases in temperature compared to other materials. Care must be taken when these glass products are connected to other materials and the temperature rises, in order to avoid the development of cracks.
Care Must Be Taken During Furnace Insertion
Quartz and silica glass feature low thermal conductivity. If the glass product comes too close to a heating element, or is put in direct contact with a flame, it may become locally heated and develop cracks. Long glass tubes may also deform at temperatures of 1100°C or higher. Care should be taken to support both glass types, especially large-sized products.
Devitrification
Devitrification of quartz and silica glass means transition from a metastable (vitrified) state to a stable crystallized state of cristobalite. Devitrification occurs when the product is used at high temperatures over a long period of time, or it is heated while impurities adhere to its surface. Even very small impurities on the surface can have a major influence. Under such conditions, devitrification may even occur at temperatures of 1000°C or less. This hardly ever occurs at temperatures of 1150°C or less, if the glass surface is perfectly clean. Devitrification usually starts when the temperature rises to 1200°C or higher, then further develops as the temperature increases.
Special Handling And Precautions
When handling, always wear clean, lint free gloves or powder free latex gloves. Be sure to avoid direct contact of the glass with bare hands. The skin's natural salts contain alkali metal elements such as sodium and potassium that speed devitrification.
MOMENTIVE® CALCULATORS & REFERENCE TOOLS
Technical Glass Products is an authorized Momentive Fused Quartz fabricator. Momentive Fused Quartz combines extreme purity with excellent high temperature properties.Momentive quality offers Technical Glass technical support backed by a staff of material and fusion experts, ensuring the customer of reliable and cost-efficient glassware fabrication.
Technical Glass Products specializes in custom fabrication of fused quartz products to your exact specifications. From small diameter apparatus to large diameter furnace tubes and bell jars, our experienced craftsmen have decades of experience that enables us to exceed your expectations for quality.
Technical Glass Products also offers a wide range of standard products for immediate shipment for your glassblowing needs:
We are known world wide for our quality, service and competitive pricing. We are world leaders in the fused quartz fabrication industry, and have the pleasure to be an authorized distributor and fabricator for a number of quartz raw material suppliers, including:
Momentive Performance Materials (formerly GE Quartz)
Philips
Heraeus
Qsil
Our goal at TGP is not only to meet all of your quality, service and pricing expectations, but also to exceed those expectations and become the quartz fabricator and distributor of choice for your company.
For prompt evaluation and quotation of your project, please contact us: CONTACT US